Do you propose to start a fitness lifestyle every year but abandon it in the first month? Perhaps your problem is not a lack of motivation, but rather that you do not know how to start a fitness life .
It does not matter if you want to learn to eat healthy to lose weight, start training to strengthen your physical condition or feel good about yourself, the important thing is that you feel motivated.
If I am already motivated, how can I start a fitness life? Motivation is the stimulus to reach your goals, but to adopt fitness as a lifestyle, you need commitment and a good plan of action .
In this blogpost we will tell you the most important points so that you can lead a healthy life and fitness.
Let's go with everything! 💪
What is fitness?
Today it is possible to find multiple influencers and professionals who promote the fitness life. But what is fitness?
Fitness is a state of well-being that is achieved through exercise and a balanced and healthy diet .
The goal of fitness is to maintain a healthy lifestyle.
So what is a fitness person? We can say that a fitness person is someone who trains several times a week in order to get into good physical shape.
Fitness as a sports practice focuses on improving aerobic endurance, achieving muscular strength and greater flexibility to achieve body balance. These fitness exercises are commonly performed in gyms or sports spaces.
The goal of the fitness lifestyle is to maintain good physical and mental health . Therefore, to be a fitness person you just need to start eating healthy food and exercising regularly . You don't have to go to a gym to do it!
Source: Pixabay
Benefits of leading a fitness lifestyle
How to improve my physical condition? Surely this question has been around in your head many times and the answer is to start a fitness life. Why? Because it has many benefits!
If you maintain a balanced fitness exercise program and start eating healthy , the advantages you can obtain are the following:
✅ Improve your aerobic endurance: Performing series of fitness exercises several times a week (minimum three) will help you increase the development of your cardiorespiratory system and, consequently, your endurance.
✅ Strengthen your internal and external physical condition: This will also increase your self-esteem and you will feel great.
✅ Adopting fitness as a lifestyle will reduce your risk of developing cardiovascular diseases such as hypertension and high cholesterol, in addition to preventing obesity.
✅ Avoid stress: Another benefit of starting to train is the release of endorphins . Endorphins are substances released by the brain and make us feel well-being. Therefore, you will feel relaxed and less likely to suffer from stress or depression.
Source: Jonathan Borba / Pexels
The fitness lifestyle has many benefits, what do you need to encourage you to try it? Say yes to a healthy life! You just need to know how to start a fitness life.
How to start a fitness life?
Do you follow a fitness influencer on Instagram and think that you will never be able to follow their example? You're wrong!
Although you think that starting to lead a fitness life is difficult, the reality is that the difficult thing is to maintain it . Think of all the times that you have started with all the motivation but you go on vacation or something happens in your life and returning to it becomes an impossible mission.
But it's not impossible, you just need a little direction. How to be fitness? Take note of the following key points that will help you start your fitness life.
Source: Karolina Grabowska / Pexels
Change starts from the inside out
What do we mean by starting from the inside out? For starters, many of the people who wonder how to become fitness overlook that all change starts on the inside .
This means that to start leading a healthy life and fitness, it is necessary to feel good about ourselves .
It may seem contradictory to you, and you may even think that you want to start training to feel good, but the reality is, if you don't accept yourself from the beginning, you won't see any results.
Source: Chevanon Photography / Pexels
How to start a fitness life? The first step is to accept you.
Our body is our temple and we have to take care of it and love it. It is useless, starting in fitness if you are going to be desperate and dissatisfied with your results. Eating healthy and exercising regularly is not an overnight process, it takes time and stages.
The important thing is to enjoy this process and live each stage in its own time without rushing , otherwise, you will be demotivated and eventually you will abandon your goal of starting a fitness life.
Source: rfstudio / Pexels
Eat healthy and balanced
Whether you want to eat healthy to lose weight, or simply for your health and well-being, the truth is that food is key to any fitness process .
It does not matter, who or where you ask how to start a fitness life? You will always get the same answer: with healthy nutrition ! Even if you exercise and exercise, if you don't know how to feed yourself, you won't see results .
How can I eat healthy? First, you must know the food groups necessary for a balanced diet and identify those groups that you should reduce a little.
Incorporating more fruits and vegetables in your diet and reducing those foods with excess fats and sugars and replacing them with healthy snacks is a good example of how to start a fitness life.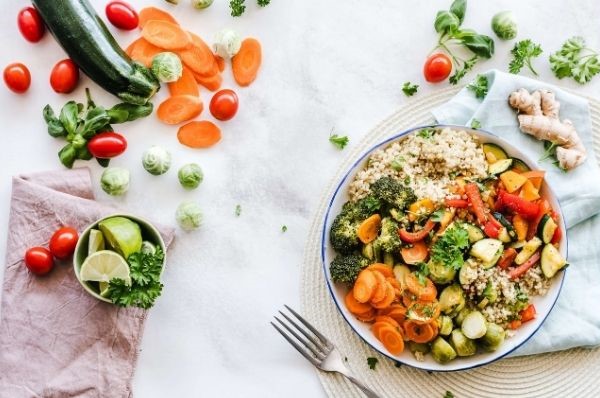 Source: Ella Olsson / Pexels
However, in fitness life the portions and calories you should consume will depend on your goal. If you want to lose weight, you will consume fewer calories and if you want to increase muscle mass, you will consume more.
Do not eliminate any of the food groups, they are all necessary for healthy eating. If you are vegan or vegetarian, omitting the group of animal origin and obtaining your proteins from other foods does not constitute any harm to the fitness life that you will lead from now on.
The most advisable thing to know how to eat healthy in your fitness life, is to go to a nutrition professional , who will guide you according to your goals and your type of diet and will teach you how to start a fitness life.
Our nutritionist Adriana Puente , who teaches the Healthy Nutrition course : Feed a better life , has the following tips for you to help you eat healthy and balanced.
Exercising, the path to fitness life
After learning to accept yourself as you are and start eating healthy, there is only one point left to answer the question of how to start a fitness life.
Do exercise! Starting to train will not only be your ally to obtain a healthy weight, it will also provide strength and resistance to your body .
The ideal place to achieve results with a professional to guide you is the gym (especially if you have higher goals), but that does not mean that you cannot be fitness at home.
Source: Víctor Freitas / Pexels
Training in a gym is a part that can be essential in starting a fitness life, although it is not completely necessary.
The gym has its advantages: equipment at your disposal, no distractions and personalized help. However, if you don't have time or don't want to go to the gym, and you want to exercise without leaving your home, doing fitness at home is a good and inexpensive option .
How to be fitness at home? You can start by going for a walk or a run to a park , looking up routines on the internet, joining a distance training course or program.
Source: Karolina Grabowska / Pexels
Currently, you can find many pages on how to start a fitness life on social networks, especially Instagram. There are easy routines to train out there and you just have to make sure the person is a professional in fitness as a lifestyle.
If you are a fitness woman, an excellent option to start exercising is to follow the Gym Virtual workout routines for women . There you can find routines of different levels and monthly or beginner training calendars.
Now you know how to start a fitness life! Remember that if your fitness goal is higher, the best thing you can do is go to a professional.
Before you grab your dumbbells and dive right into fitness life, how about we review some tips to make your process easier?
Tips to start a healthy life and fitness
Making clear the key points so that you know how to start a fitness life, there are a few tips. Mujerhoy shares the following recommendations with us. Take note!
1. Start small
When we are full of motivation we want to do everything and quickly. In fitness life that is a big mistake. Making a lot of changes all of a sudden can make you give up.
Better, incorporate small changes in your first weeks of fitness life . If you eat a package of cookies every day, try distributing the cookies from a package throughout the week and eventually, you will be able to have a cookie every three to four days.
Do not forget! Part of knowing how to start a fitness life is knowing how to eat healthy .
Source: William Choquette
In the exercise it is the same, start small. Don't try to make yourself wonder woman or superman, and start with too much on the first day. You will see that with patience and perseverance you can achieve great advances in your fitness lifestyle .
2. Make changes to your shopping list
Eliminate ultra-processed foods and increase the amount of vegetables, proteins and good fats. To eat healthy, 80% of your shopping list must be quality food . Leave 20% for your cravings.
3. Analyze where you are failing
In your process towards the fitness lifestyle, not everything will go perfectly, but this does not have to mean a bad thing. Make a list of the things you are failing at . If the problem is in fitness exercises or fitness at home, making a list will give you clarity to find the solutions .
4. Don't be so strict about your diet
Knowing how to start a fitness life, you should also know that 80-85% of what you eat should be natural . But that doesn't mean you can't indulge in the remaining 15%. If you completely deprive yourself of everything you like to eat, you won't last long in fitness life.
Source: Trag Doan / Pexels
5. Do not give so much importance to weight
If your main motivation to start a fitness life is to lose weight, it is normal for you to become a little obsessed. However, weight is not always going to reflect your progress, focus on how you are feeling .
It may take time for your body to reflect the changes in your new fitness lifestyle. The best thing is that you do not get discouraged and keep eating and training intelligently.
6. Set yourself medium-term goals
Writing your goals will let you see how you are improving in your fitness exercises. Set yourself medium-term goals and don't try to get so far ahead of the future . Every day that you continue in the fitness lifestyle will be a triumph for you.
Source: Ketut Subiyato / Pexels
Apply these 6 tips and you will not miss anything to know how to start a fitness life. Try to take your process at your own pace and your own fitness lifestyle.
Do not despair! In the end the results will be surprising.
Remember to enjoy each stage and never compare yourself to anyone. Remember that you are on a path in which the most important question is: how to improve my physical condition? Every body is different and comparing is a mistake that can make you abandon your fitness goals.
Also share your goals and progress with your friends or close family. Feeling the support of those who love you will be a great plus on your way to the fitness lifestyle.
Lastly, rest, your body is not a machine! You need to rest to regain strength and build muscle . If you want to know a little more before starting your fitness life, join the Wellness Online Course: Improve your health and lifestyle